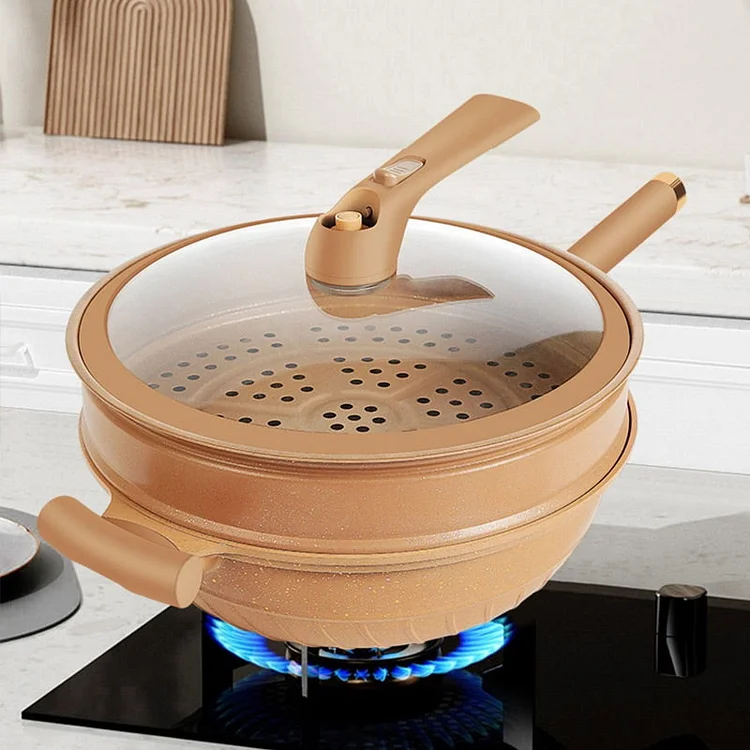 Elevate your cooking experience to new heights with our Non-Stick Clay Wok with Steamer Basket. This exceptional kitchen tool combines the time-honored tradition of clay pot cooking with innovative micro-pressure technology, giving you the power to create delicious, healthy meals like never before.
Key Features
Micro-Pressure Technology: Our wok features innovative micro-pressure technology that creates a sealed cooking environment.This advanced feature allows you to cook food faster and more evenly, retaining essential nutrients and flavors.Say goodbye to overcooked or unevenly cooked meals with this precision cooking method.
Multi-Purpose Steamer Basket: Included with the wok, the steamer basket allows you to prepare healthier steamed dishes effortlessly.Steam vegetables, dumplings, seafood, and more while locking in nutrients and natural flavors.This versatile accessory adds a new dimension to your cooking repertoire.
Polymerization Pot Bottom: Superconducting energy-gathering technology, long-term use;without convex bottom
Healthy Cooking, Less Oil: The non-stick interior means you can cook with minimal oil, promoting healthier eating without sacrificing flavor.
Easy to Clean and Maintain: Cleaning up after cooking is a breeze thanks to the non-stick surface. The wok is also dishwasher safe for added convenience.Designed for durability, this wok maintains its shape over extended use, ensuring consistent cooking performance.
Versatile Use:This wok is perfect for stir-frying, steaming, and stewing, offering a wide range of cooking possibilities in one convenient kitchen tool. Saving you money by reducing the need for multiple cookware items.
Specification
Material:refined iron
Suitable for stoves: gas cooktops / induction cooktops, etc.
Diameter: 32cm
Package Includes
1*Non-Stick Clay Wok With Steamer Basket
Notes
1.Please allow 2-3cm error due to manual measurement. Please make sure you do not mind before purchasing.
2.Color may not appear as exactly as in real life due to variations between the computer monitors.