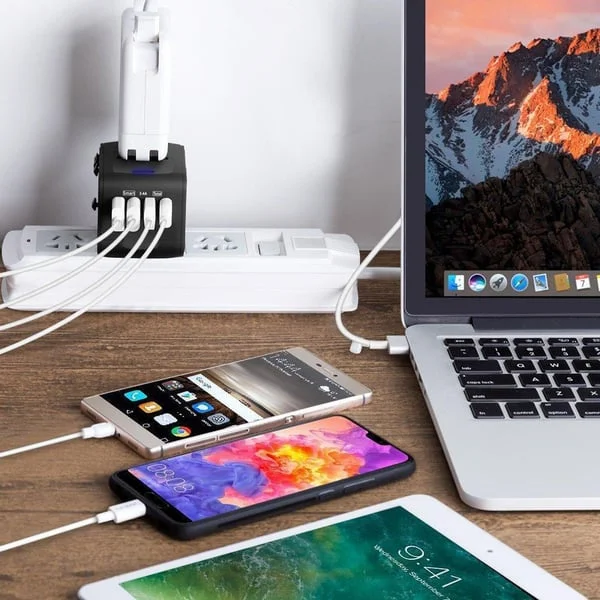 All In One Universal USB Travel Power Adapter With 3 USB Port And Type-C International Wall Charger Worldwide AC Power Plug 8 Pin AC Socket For Multi-nation Travel UK, EU, AU, Asia Over 200 Countries
[Universal Compatibility Travel Adapter]: 1500W Worldwide Travel Adapter, our world travel adapter has 4 kinds of international standard plugs for USA, EU, UK and AUS. It can work in more than 170 countries including US, UK, France, Italy, Europe, Australia, China, Japan, etc. Small and Portable, it is your best travel accessories.
Warm Tips - The mini travel adapter DOES NOT convert electrical output current and voltage, it converts the power outlet only and fits power sockets of type A, B, C, E, F, G, H, I, J, K, L, N - Every country has it's own voltage standard, pls ensure the local electrical voltage carefully - In order to operate it more convenient, we have improved the adapter. When we shake the charger adapter, it will make a noise. But that is the sound of the septum collision, not its quality problem,please don't mind.
[FAST 2.4A CHARGING PORT AND POWER RATING]: Universal travel adapter built-in 6A ceramic fuse and Surge Protections. Avoid over-current and overload high-temperature, short-circuit damage appliances. Power adapter Inupt: 110V - 250V input voltage Max. Power Rating: 660W Max. at 110V, 1440W Max. at 250V.
parameter:
AC power rating: 6A 100-240Vac max (660W max at 110V, 1440W max at 240V)
Output socket: AC 100-240V-Max6A (not a converter, can not convert voltage.)
1 x USB-C output: 5V 3A max
3 standard USB, each output 5V 2.4A max
Built-in smart IC chip
Safety plug function
LED power indicator
Universal Compatibility
Universal USB Travel Power Adapter
3 micro-USB ports, 1 USB-C port, and 1 universal AC outlet