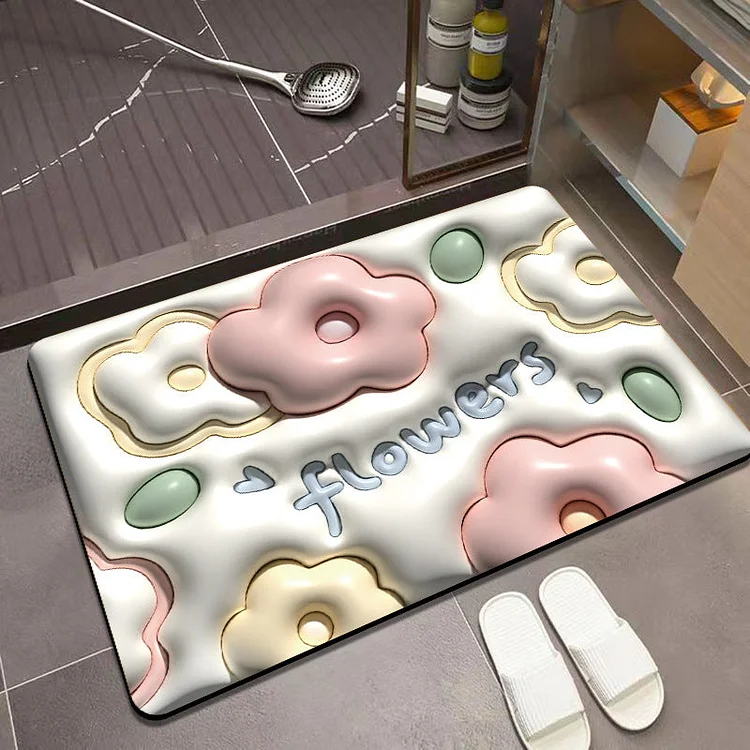 The 3D visual design makes your home look covered with lovely and beautiful flowers!
An Unique Gift for MOTHER'S DAY!
SIZE CHART 
Small: 40cm x 60cm / 15.7in x 23.6in
Large: 50cm x 80cm / 19.6in x 31.5in
TIRED OF MOULDY MATS AND WATER ALL OVER THE FLOOR?
The Magic Mat is an ideal addition to any room. Constructed from natural diatomaceous earth, it quickly dries your feet and provides a non-slip surface.
With its excellent absorbency and quick-drying properties, you won't have to worry about water on your floor ever again.
This mat makes for a great gift for birthdays, holidays, and for your loved ones.
Please take note of the following points: 
The Living Magic Mats have a thickness of around 0.3cm. Kindly allow for minor variations in measurements as they are manually taken.
Please be aware that the color of the product you receive may differ slightly from the images shown above, as variations in lighting and display settings on different computer monitors can affect the perception of colors. Although we make every effort to accurately represent the product's color in our images, an exact match cannot be guaranteed.
KEEPS THE FLOORS CLEAN, DRY, AND SAFE
The Magic Mat is the ultimate solution for a safe and dry bathroom floor. Its advanced water absorption keeps water from spreading, reducing the risk of hazardous water trails. It dries quickly, preventing gross, damp bath mats, making for a cleaner home. Say farewell to wet bathroom floors and hello to a safer and more hygienic home with the Magic Mat.
STAYS CLEAN, FRESH, AND ODOR-FREE
Say farewell to unpleasant traditional bath mats and embrace the Magic Mat. Engineered with quick-dry technology, it prevents mold, mildew, and unpleasant odors, making cleaning a breeze. Unlike traditional mats that trap dirt and bacteria, never fully drying out, the Magic Mat delivers a cleaner and fresher bathroom experience.
PREVENTS SLIPPING
The Magic Mat prioritises safety with its non-slip bottom that securely grips any floor surface. Unlike traditional bath mats prone to slipping, folding, crumpling, or bunching, this mat remains flat and stable, allowing for confident and safe use. The Magic Mat is the optimal choice for a secure and stable bath mat experience.
DURABLE AND EARTH-FRIENDLY MATERIALS
Experience premium quality with the Home Magic Mat, crafted from natural diatomaceous earth and other materials that dry three times faster than regular floor mats. With its superior materials, you can enjoy this bath mat for years to come. It is soft and flexible, making it simple to roll and store, freeing up bathroom space. Upgrade from a standard bath mat to the Home Magic Mat for a premium and convenient experience.

SUITABLE FOR ANYWHERE IN THE HOUSE
The Magic Mat is not just an ordinary bath mat, it's a versatile and multi-functional mat suitable for use throughout your home. Whether you require it for your front entrance, back entrance, bathroom, balcony, kitchen, or any other location, this mat is ideal. Its durability and quick-absorbing water capabilities make it an excellent choice for any room in your house. Maximise the potential of your mat by choosing the Magic Mat for all your household requirements.
COMPACT & ULTRA SOFT
Indulge in ultimate comfort for your feet with the Mat, crafted from a soft, spongy material that feels great on your soles. Its sleek and compact design fits smoothly under any standard door without getting tangled, snagged, or obstructed. Maintain a clean and comfortable entranceway in your home with the Mat.
HOW IT WORKS:
The Mat boasts a multi-layer system that effectively captures and evaporates moisture. The top layer attracts moisture to its surface while the second layer, made of an absorbent sponge, allows the water to pass through and be trapped.
The sponge layer's open-cell structure allows air to circulate, causing the water to evaporate quickly. The third layer, consisting of soft and quick-drying foam, provides the mat with its plush and comfortable feel.
Unlike traditional cotton bath mats that often slip, the mat's non-slip rubber bottom ensures it remains in place.